Globe Implements Share-A-Load validation message to help curb text scams
If you are a Globe subscriber and has become a victim of text scams via Share-A-Load, Globe Telecom has a good news for you. Globe has recently implemented validation text message for customers doing Share-A-Load.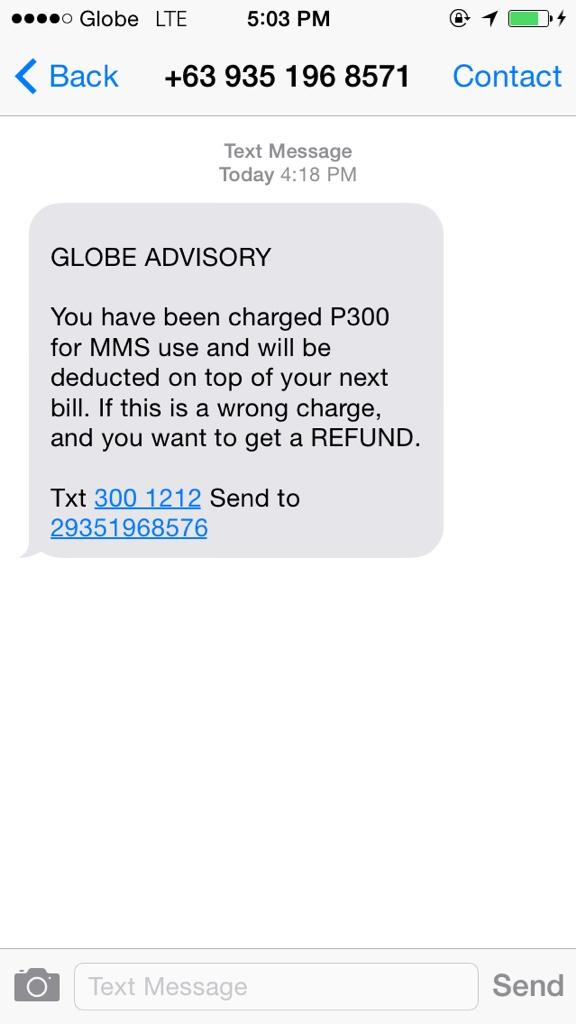 Text scammers have been using Globe's Share-A-Load service to trick customers in sending load without their knowledge. Text scam messages like "GLOBE ADVISORY, You have been charged P300 for MMS use and will be deducted on top of your next bill. If this is a wrong charge, and you want to get a REFUND. Txt 300 1212 Send to 2935XXXXXXX" are being sent to customers to trick them. Text scam messages are varying everyday using spiels like rewards, loyalty, MSF discount, roaming and bill overcharge, waiver of charges, refunds, etc.
Customers doing a Share-A-Load or a Share-A-Promo transaction will be asked to confirm their transactions. The validation message reads as follows: "You are about to share PXXX load with 0916XXXXXXX. Reply YES within 5 minutes to proceed. P1/transaction. Report text scams to www.globe.com.ph/stopspam." The validation message would come from 2652xxxxxxxxx where the last 9 digits are the transaction number. Replying to the message is free of charge. On the other hand, customers who fail to reply within 5 minutes will receive the following message: "We're sorry, but your Share-A-Load/Promo transaction has been cancelled because the response time exceeded 5 minutes. Please try again. Thanks!"
"We want to continuously protect our customers against these scams. By putting in place this additional measure, we would help prevent our customers from unwittingly undertaking Share-A-Load transactions," said Yoly Crisanto, Globe Senior Vice-President for Corporate Communications. She noted that even with widespread communication efforts, some customers are still unaware that by adding the number "2" before the 10-digit mobile number of the recipient, they are actually doing a Share-A-Load transaction.
Last month, Globe reduced the amount of Share-A-Load transaction to a maximum of P150 for prepaid customers and P300 for postpaid customers to counter text scams asking for P500 Share-A-Load transactions.
Globe customers are urged to immediately report text scammers to http://www.globe.com.ph/stopspam and provide all the details required. You can also tweet a screenshot of the text scam message to @talk2GLOBE. Numbers that are reported as source of text scams will be immediately blocked from the network.
About The Author
Philippine Street Fashion
PhilippineStreetFashion.com is the newest and the hippest fashion blog (website) that showcases Pinoy Fashionistas on the Streets, Malls, Events, Offices and everywhere else. Whether your in Luzon, Visayas or Mindanao, PSF will find you!